Williams Jet Tenders, the world's leading jet tender specialist, today unveils its refreshed brand, including an updated look and feel. The brand refresh is aimed at better reflecting its unique positioning in the market and the opportunities it sees in pushing the boundaries of boat building.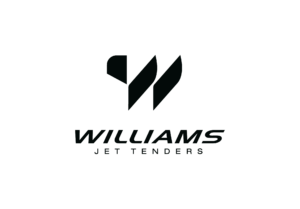 The refreshed brand identity is a result of a comprehensive brand strategy process, which included research, analysis and input from stakeholders. The updated primary logo features a modern, dynamic and vibrant design, with a focus on Williams' core strengths and underpinning the company's foundations of passion, quality and innovation. The brand refresh also gives each range its own personality utilising new colourways to differentiate.
"The refreshed brand marks an exciting new chapter for Williams, and provides us with a platform for achieving our ambitious growth plans over the coming years, said Tom Dowdell, Head of Marketing at Williams Jet Tenders. "Williams was built on innovation and remains dedicated to evolving its craft through cutting-edge technologies, materials and processes that are fit for the future. We wanted our brand to reflect this as well as our commitment to investing in the future and creating new opportunities for growth and long-term success."

Williams Jet Tenders worked with Volume Creative on the rebrand with the aim to take the brand's identity to the next level to produce the ultimate customer experience at every touchpoint. Download brand guidelines here.